3D Images and 3D Mapping Drones
SkyCrew Pictures specialize in photogrammetry 3D mapping. Our drone (UAV) pilots are industry experienced in land surveying and construction.
To improve the detail of our 3D mapping we take oblique aerial images at 30° and 45 ° angles flying around objects at different altitudes, in addition to flying the normal overlapping lawnmower path regular grid pattern.  As all the images are geo-referenced, these additional oblique images add depth and detail to the final 3D rendered model when the images are draped over the wire frame mesh.
The 3D textured wire framed mesh is a representation of the shape of the model that consists of vertices, edges and faces together with the texture which is projected to it.
This sparse and dense point cloud is triangulated to create a wire frame mesh model which can be saved as a file and imported into most GIS, CAD compatible software for further analysis.
Our' commercial drones can fly an average of 60-80 acres in around 20 minutes without the need to land to change a battery.  We carry spare pre-charged batteries on each shoot.  It only takes a few minutes to change the battery and get back in air.  So we are able to fly all day with very little disruption.
Our cloud based 3D mapping software uses powerful servers to plot and construct the 3D model.  It identifies millions of keypoints in the overlapping high resolution aerial images and calculates a 3D point cloud which is a set of points defined by the X, Y and Z coordinates as well as colour.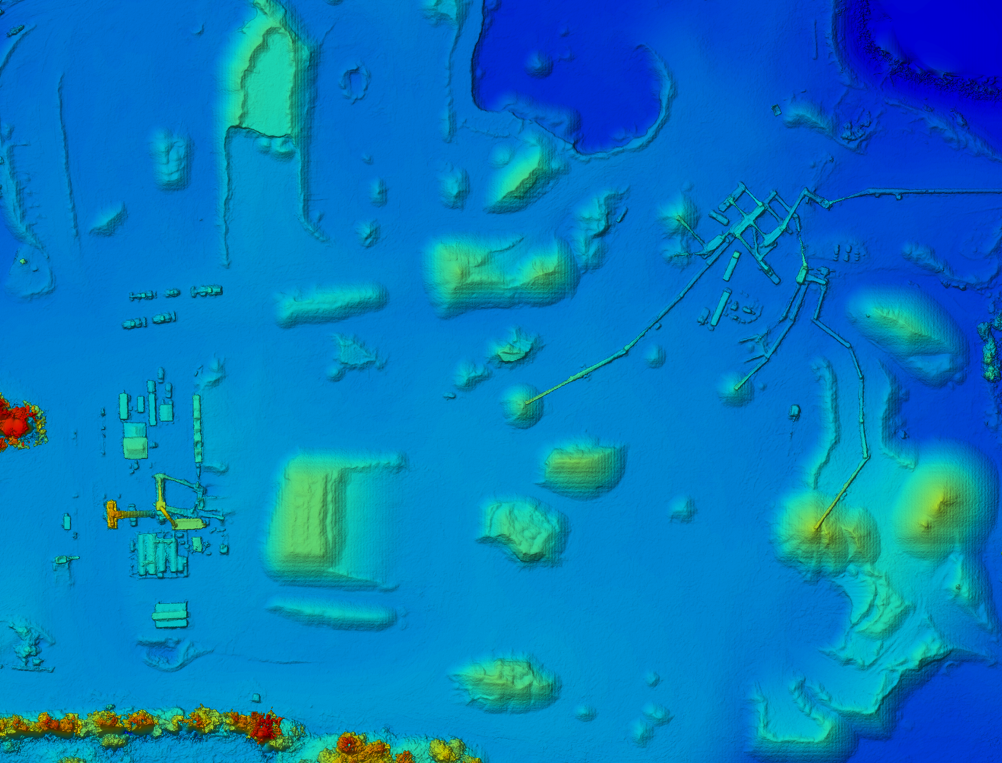 Our drone data is up to date and more detailed that satellite data collected from Google Earth or Google Maps.

The time to produce a full 3D model after we have downloaded our images from the drone to the powerful mapping software is governed by a fast processing speed of around 100 images per hour. This means we can turnaround most 3D mapping jobs in 24-48 hours.
We give client access to our cloud based mapping software to view fast, large-scale three-dimensional modeling of almost any landscape with brilliant clarity and resolution.  Alternatively they can export files to their own GIS software for further analysis.
Digital Surface model - DSM
Digital Surface Model (DSM) is a matrix of the mapped area and thus takes the form of a single-band image. This image can be exported as two different types of geo-referenced file – raster (geotiff) or Vector point cloud (.xyz, .las, .laz) and can be opened in GIS software such as: ArcGIS, Global Mapper, AutoCAD, QuantumGIS for surface analysis, contour line generation and volume measurements.
The 3D point cloud can be linked and referenced to client survey control points, local OS stations to make the 3D model very accurate.
3D mapping does not work on moving objects and is severely limited when trying to map images of snow and sand or reflective surface like water.
When mapping we avoid shadows and very windy days because moving trees, object and leaves can affect the final results.