Corporate Video Productions
We know that aerial corporate video content can be a key component of any business digital marketing strategy.  A short one – two minute video gives the viewer an understanding of your business and an awareness of your products and services.  It is vital to grab the attention of viewers in the first 5-10 seconds of any video with stunning visual images.
SkyCrew Pictures provide filming, editing of aerial video and images for corporate productions, web based video and filming companies. Drones can fly and film from ground level to 400ft, so they have the ability to fly lower, closer more quietly than a helicopter at a fraction of the helicopter hire costs.
By using our drone platforms for your aerial filming, we work with you to get the perfect aerial corporate video.
We stream the aerial drone footage to the pilot's remote controller in real time which helps the client on the ground see what the aerial camera is capturing. We are able to adjust the camera pan, tilt, framing and drone flight path as we fly to get the best shots.
We film in Ultra-HD 4K video using the latest in camera stabilization technology.  Our remote control gimbal system will deliver smooth fluid drone filming shots even in difficult conditions and we are experienced in filming for the edit.
All commercial drone UAV flying in the US is governed by the FAA safety rules and regulations.  Sometimes what the client has in mind from the aerial shots may not be possible based on the location or other restricting factors.
We are happy to work with your creative team at the planning stage of your video production.  SkyCrew Pictures understand what is needed to get the perfect aerial video shots and can save time and money by sharing our knowledge and having input into the development of the final brief.
We can show you the eight most effective drone flight patterns we use for drone videography and the techniques we combine with these flight patterns to create dramatic footage.
Indoor Aerial Photography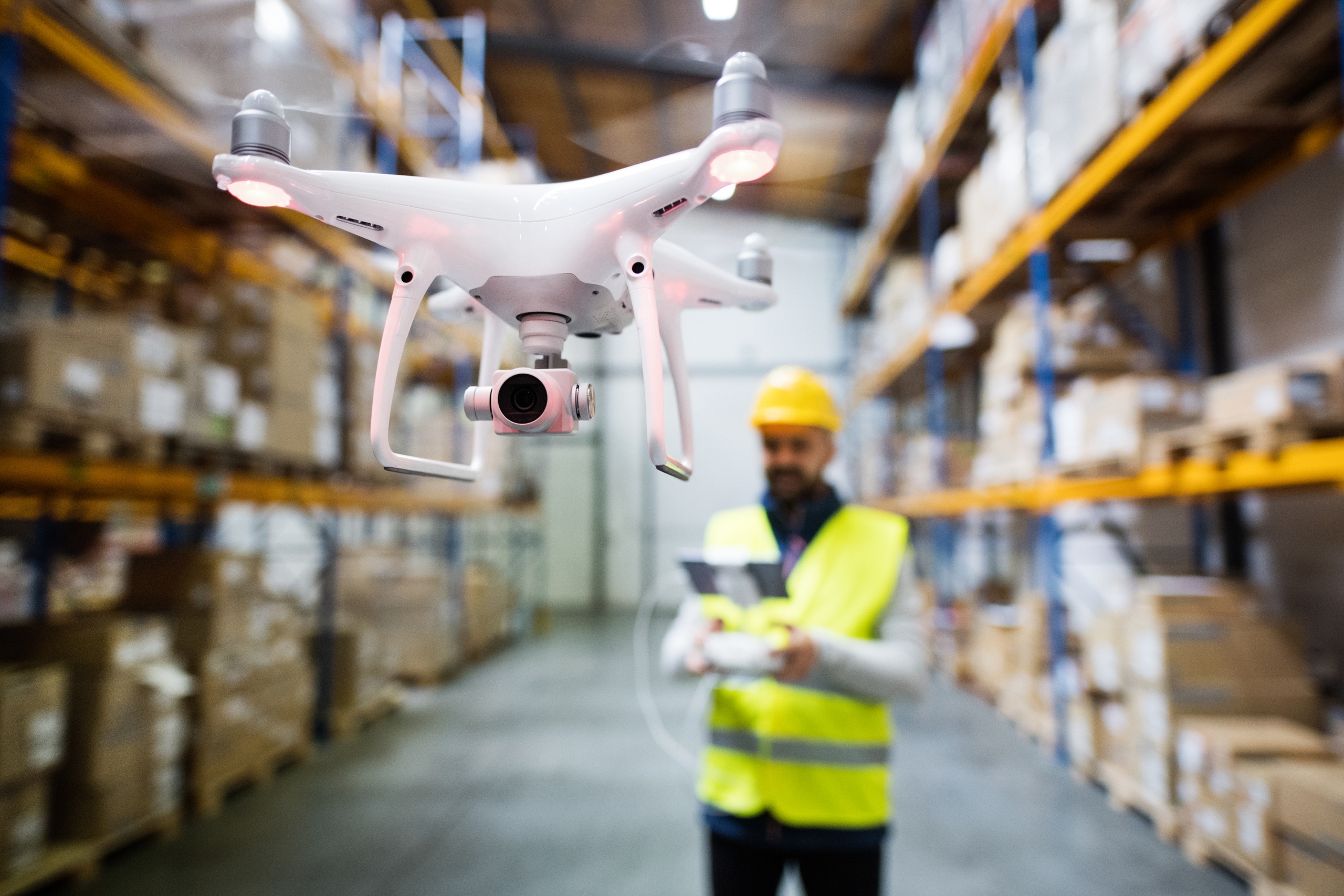 We have flown in warehouses, studios and reception areas.  The only thing we need is a reasonable amount of space and good roof height.  As a safety precaution we can install propeller guards for indoor flights.
The dynamics of flying indoors are different. The construction and materials in the building can affect how the drone UAV flies.  Also GPS does not operate indoors.
For 95% of the time there are no issues with flying indoors but safety is our number one priority.  A short test flight can give us the final answer.
Contact us by phone or email to discuss your next corporate video production.