SkyCrew Pictures fly our drones (UAV's) with a high-resolution camera to collect 20 megapixel aerial photographs for a wide variety of commercial photogrammetry mapping uses. We can measure and map hard to reach areas like, quarries, landfill sites and open cast mines.
Depending on the client requirement, we use either PC based or cloud based drone mapping software suppliers Pix4D Mapper and DroneDeploy Pro to produce 2D photo-mosaics and 3D Digital Surface Models in the form of geo-referenced Orthomosaics, DSM, DEM, NDVI, and Point Clouds.
The processing and analysis of this aerial imaging data is done quickly on powerful servers to produce an accurate useable map in various file formats for our clients to use or to import into GIS, CAD compatible software – ArcGIS, Global Mapper, QuantiumGIS, AutoCAD, 3D Reshaper, Trimble, Quick Terrain Reader, Bentley and CC Viewer.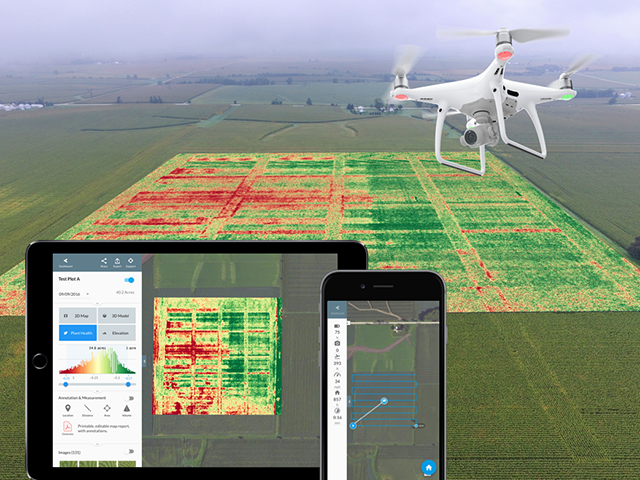 The higher altitude we fly, the more acres of land we can cover, but the lower we fly the more detailed the image.  The standard maximum resolution of the images is 2″ per pixel but this can be increased to 0.4″ per pixel for an additional cost.
The flight altitude and image overlap is determined by the type of industry and the results required.  We fly at a consistent height in a lawnmower path with the overlap of images normally set at 75-80% for most jobs.
2D orthophotography can be used to measure real distances, because it is an accurate representation of the Earth's geographic surface. The overlapping geo-referenced aerial images are stitched together in the software to produce a 2D Orthomosaic – 2D photo-mosaic.
Using this information combined with additional oblique side images taken at 30° and 45 ° angles the software can also produce a 3D model that can be viewed from any side or orientation. These 2D and 3D maps can be compared to older and newer versions to record change and calculate length, area, volume, cut/fill, and elevation between two or more dates.
Below are some current industry sectors and applications for drone flights to collect images for 2D photo-mosaics and 3D Digital Surface Models:
Agriculture
Construction
Oil & Gas
Solar Power
Wind Turbines
Electric Power
Mining
Waste management
Environmental
Landfill
Public Agencies
Disaster management
Surveying
Safety assessment
Insurance
Engineering
Crop Stress / NIR / NDVI
Topography
Volume calculation – surface and piles
As built drawings
Corridor mapping and monitoring
Power line monitoring
Erosion monitoring
Flood monitoring and management
Wildlife Management
Cut /Fill mapping
Research
Disaster response / fire monitoring
Planning
Law enforcement
Change detection
Maintenance monitoring
Our drone data is up to date and more detailed that satellite data collected from Google Earth or Google Maps.
For land and mining applications 2D photo-mosaics and 3D Digital Surface Models are becoming an integral part of the day to day operations, progress monitoring and volume measurement of materials.
3D Digital Surface Models show the topography and the exact landscape contours.